Ireland has more than its fair share of unspoilt natural pathways to offer walkers, and so it would be insane to imagine there would be a top 5 walking routes list because the criteria would be impossible to pin down. However, the mission is to identify some contenders to consider with outstanding qualities that would inspire everybody. For argument's sake, we'll sample a moderately small cross section of the 900 or so trails that thread their way through the country. This includes 250 designated walks through Coillte forests, greenways and towpaths, along with the national parks.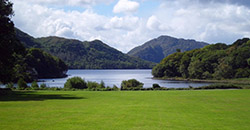 On the outskirts of Dublin on the east coast, county Wicklow, you'll find the 3-kilometre Bray to Greystones Cliff Walk. This beautiful coastal path starts on the dreamy little promenade of Bray. From there, make your way around the side of Bray Head and disappear into the hillside along the winding path. Below you, the cliffs drop steeply to the moody Irish sea. Stay there for a while and imagine what adventures await you or drift along, taking in the fresh sea air down to Greystones harbour. Grab an ice cream or a bag of chips, then nip back to Bray on the DART railway.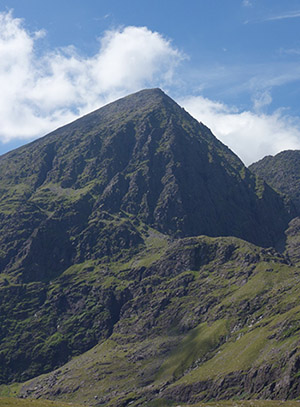 At the other end of the scale, the Coomloughra Horseshoe in County Kerry is difficult to find – GPS is advisable – but if you do manage to unpick the combination of roads leading to the Hydro Road carpark, you'll be greeted with a view of a lifetime, and the best that MacGillycuddy's Reeks can offer. You'll need to be an experienced and sure-footed hillwalker that isn't fazed by some dizzying heights. When you reach the cross-stone shelter on Carrauntoohil, it's time to ponder the greatness of Ireland's natural beauty from 1040 metres up. After 6 -7 hours of breath-taking panoramas and 13.5 kilometres of invigorating accents, it's time to rest and reminisce about your exploits. Download the pictures and record your memoirs because it's a day you won't want to forget.
Roughly 50 kilometres from Westport, and about a 30-minute drive away, is the picturesque Keem Bay, County Mayo. This delightful little bay is an Irish treasure, full of delicate wild flowers and fresh Atlantic air. A reasonable level of fitness is required to manage the beginning of the walk from the carpark, but you'll soon realise that the effort was totally worth it. Whether you are building up an appetite or working off a hearty lunch, this is the perfect place.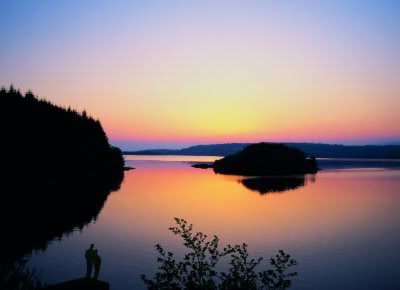 To truly appreciate the wonderous beauty of the lake Isle of Inisfree, which is not far from Dromahair, start your walk from Slish wood. It's a leisurely peaceful trek along the calm lake-side waters and pretty fairy tale woodland paths. You'll be able to stop for picnic and write a little poetry, sketch or just dream. This is certainly a tranquil slice of heaven with nature all around you. No wonder Yeats wrote about it.
For something a little magical, visit the trails of Glenariff Forest Park in county Antrim. You won't be disappointed. Start at the Laragh Lodge car park, a waterside pub, which is a perfect place to eat and drink, before you go or after you've been. There is a choice of 4 walks with differing distances but if you commit to the red waterfall trail and black scenic trail, you'll be treated to 22 magnificent waterfalls and rocky river gorges that JRR Tolkien would have drawn inspiration from.