Ireland is an intriguing and vibrant place to visit that manages to keep its blissful and natural retreats intact. However, recognising great places to stay and choosing accommodation to your tastes isn't easy at all. We usually rely on a star-rating system issued by an independent quality assurance company, which is ok, but what do we really want? With that in mind, the suggestions about to be made are purely ideas, not a guarantee of your experience.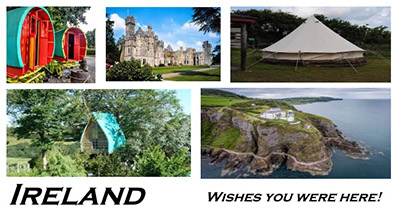 Once you have selected the location, it's a simple matter of what conditions and level of comfort you'd like, but more importantly, is your choice available? Assuming you have the green light, it's time to sit back, and dream a little about the ensuing adventure about to unfold in Ireland's beautiful kingdom.
Lighthouses are no longer manned in Ireland, which means most of the sites have been redeveloped and turned into holiday accommodation. Dotted around the coast of Ireland, the light keepers' cottages and lighthouses are always set in the most dramatic headland locations. Imagine a stormy night tucked up in a cosy cottage with the open fire roaring. If you fancy that, then give the Irish Landmark Trust a call.
It's reported that there is a little bit of gypsy culture in everyone, which may well explain why we travel. Gypsy style caravans are very much in vogue, and you'll be able to find static units tucked away on a farm, or you may want to experience what it's really like and try a horse-drawn version. The transport is slow but the only fuel you'll require is some grass, and the occasional apple. Moving slowly is a real advantage when you're surrounded by lush countryside. Going anywhere quickly isn't necessary.

If quirkiness sits comfortably in your nature, you'll no doubt be in hog's heaven when you stay in a transparent bubble for the night. Finn Lough's forest domes offer the ultimate nature experience with some luxury thrown in. Inside the bubble, you'll have a lovely oak four-poster bed and a beautiful free-standing bath. Wrap yourself up in the bathrobe and star gaze to your hearts-content with the telescope beside the bed.
Castles are often thought of as a bit spooky and fairly stark places to stay, but this doesn't apply to Waterford Castle. It's located on a comparatively tiny private island in the middle of the river Suir. The 16th century gothic-looking building has an inviting warmth to it. A delightful ferry ride marks your arrival and it will immediately trigger your curiosity of this enchanting hideaway.


If you have more money than you can shake a stick at, head over to Ashford castle where a legion of staff are ready to take care of you. This gloriously restored 800-year-old former Guinness family home is a world away from the norm. Luxury usually comes with a hint of vulgarity, but not in this case. Whether you are seeking some solace away from the rigours of daily life or a little exercise and sporting activity, Ashford Castle has it all, including a profusion of superbly prepared cuisine for every taste bud.