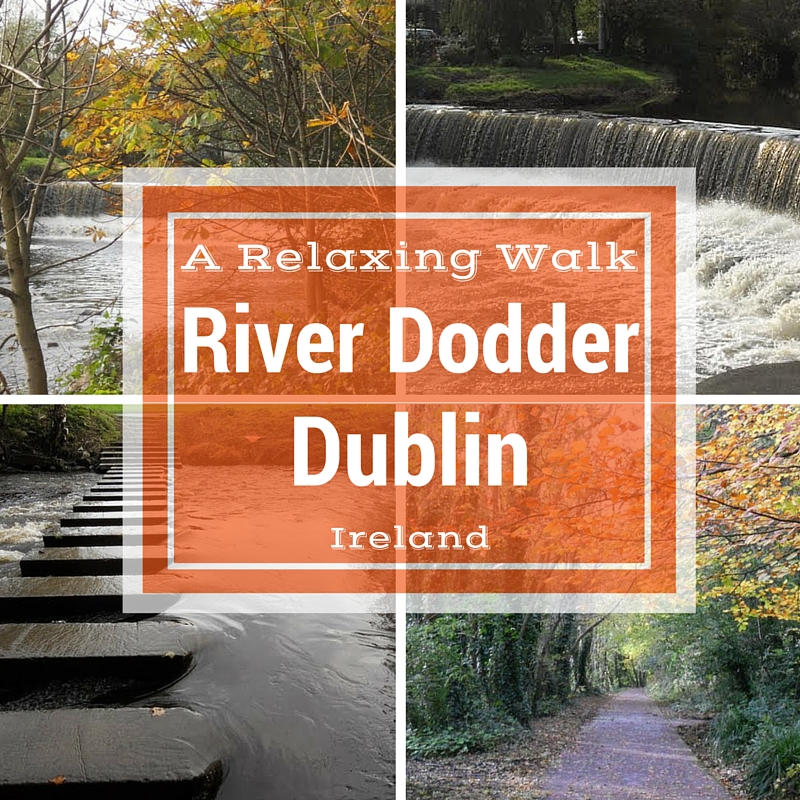 This is a story about the experiences of my friend and I as we meandered along The Dodder River from the Mountains of Dublin right down to the mouth of The Liffey. So – if you are looking for precise instructions on where to turn right, left and such like – I'm afraid this article will be no help to you.
Some specific movements we made are recorded. But in most cases we were enjoying the experience so much and the journey itself passed with such ease that they all just blended in.
And now – a slight personal introduction. I live in Kinsale. This idea was the brainchild of my friend Aengus who hails from Cork. We met at a hiking festival in The Glen of Aherlow about 5 years ago and have kept in touch since. We regularly haul ourselves up mountains, so low level city walking was quite a new experience for us. As most readers will probably know there is a plan to develop a Greenway along this route. But we decided we'd have a go at it before the masses descended on it.
Next, an overview of how we went about it. Happily, I have a very good friend living in Firhouse. We left my car at her house and she drove us to our starting point at Bohernabreena Reservoir. We got the Dart home to Kinsale – and picked up my car the next day. We set off at 10.30 and breezed into Ringsend at about 7pm. Here is a link to where we set off. There is no official parking here. You could park on the side of the road….but it is certainly not advisable to park there overnight due to the high risk of vandalism.
And so – off we set in the warm October sun. To the left we had what was in fact a sluice from The Dodder running merrily along beside us, to the right, the sparkling Bohernabreena Reservoir and behind us, fabulous mountain views.
Wander along – you can't go wrong. And after a fashion you will find yourself at Kiltipper, where you can stop for coffee at a little café which materializes on your left. And that is exactly what we did. Next you will have to desert The Dodder for a little while. Go down the lane which leads from the café, turn right when you get to the road and set off for about 1k until you arrive at a T Junction. You'll see a large Park ahead of you. Head over into this park and stroll along with the Dodder on your right towards a big red bridge and cross over it.
Follow your nose then along through Firhouse and under the M50. The next time you run out of pathway – you will find yourself on a street in leafy Tempelogue. At this time, we were getting hungry and propelled ourselves towards the village abandoning our Dodder. And so, I will be so bold as to suggest then that you too stop for lunch. Take a left when you emerge from the pathway, cross the road, walk along until you come to a rather large junction and take a right into Tempelogue village.
Happening on a charity shop, I meander out the owner of a storage closet while Aengus picked up a souvenir. We liked the morbid idea of lunch at The Morgue Pub next door, but Carvery is not our thing – so we headed to a café across the road. Here I spotted a new brand of beer for me on the menu and – I hasten to add, whilst not normally a daytime drinker, I decided to have one with my lunch. I came back to find Aengus with a highly bemused expression. It would seem that he had been asked if I was driving. Well now, given that we were both in unflattering hiking gear and I was carrying a hiking pole, I was rather perplexed, embarrassed, amused and a variety of other emotions. Didn't stop me drinking it though…
On then through Tempelogue village – take a right at the traffic lights and head down towards Tesco's. Stay on the right hand side of the road and you'll happen on The Dodder again very shortly. Find your way down and under the bridge to the other side of the road. You are now in Bushy Park. Potter along with The Dodder to the right until you come to some stepping stones. Release your inner child as you hop over these stones!
From here to Donnybrook was a bit of a blur of pretty houses, dog walkers, graffiti covered bridges, super-sized chimneys, mini waterfalls, vibrant red, gold and coppery autumnal shades, ducks, herons, the chorus of birds . . .
And a Rhino….
At Donnybrook cross the wide busy road and walk with The Dodder on your left towards Ballsbridge. Your path will bring you away from The Dodder – and indeed we thought that perhaps we should have sought out a path on the left hand side of the river at an earlier stage. Persevere and it will reappear as you sweep towards Ballsbridge ogling the pricey houses along the way.
At Ballsbridge, again cross over the busy road and walk down the right hand side of the river. The majestic Aviva Stadium will rise up ahead of you and before you know it you will find yourself at Ringsend.
We did stop from time to time to ask directions. There were loads of people out walking their dogs so you can never worry about getting lost. Always the praise seekers, we insisted on telling everyone we stopped that we had walked all the way from Bohernabreena.
We carried on to Grand Canal Dock. Dusk was falling and the lights over the 3 arena and outside The Bord Gais Energy Theatre were positively breathtaking. A fitting end to the day was a glass of whiskey outside a great restaurant. We were rightly pleased with our achievement.